Pacuare River 2 day
Prívate only
6 people minimum
The world famous Pacuare River is one of the finest choices for your adventures in Costa Rica. PRO Rafting CR offers whitewater private trips in this amazing river. This 2 day expedition offers you a perfect blend of untamed nature, beauty and exciting white water.
Pacuare is world renoun for its pristine rainforest with an amazing river gorge and scenic waterfalls all along its 15 miles. This experience is truly off the beaten path and gives unique chance to let you connect with nature. Wildlife is diverse and abundant, with sloth, toucans, parrots, coatis, morpho butterflies and colorful frogs being common sights.
The pacuare river has carved its way through boulder gardens and gorges this make for moderate challenging river, but it has a lot rapids, and very continous at time. Upon arrival to the river we will meet up with our team and gear you up. "life jacket, helmet and paddle and then brief you with a full safety and paddle talk" Start paddling Because its time to take on some rapids.
The first half of day one consist of fun class II III rapids which is a perfect time to warm up and work your river skills and gain confidence in your team. Later on our journey we will start running bigger rapids inside the famous Pacuare River Gorge, which is 5 miles of some of the best white water Costa Rica has to offer. The rapids here are "Terciopelo snake", "Double drop", "Upper and Lower Huacas", "Pin ball" and many more. You will also see the Huacas watefall, a 150 foot dramatic drop into the river.
After the gorge the rivers opens up to a 6 mile stretch on The Pacuare Valley this gives you the chance to rest a bit and take the opportinity to do some wildlife spotting. The main rapids here are "Cimarrones", "The Play Hole", "El Indio" and "Magnetic Rock". The forest remains just as lush, and the rapids just as fun.
Destination

Pacuare River Atlantic-Caribian

Departure Time

5. 5.20 pickup time (central valley,san jose )
(Transportation from Jaco-arenal-puerto viejo, etc at an additional cost)
Tour Length 04 hours approx.
season may to December


What to bring
and WEAR

Overnight clothes, personal items, head lamp in a day pack of small drybag.

Swimsuit

Clothes (lodge and night wear)

Sunscreen

Water bottle.

Water shoes, old tennis shoes or sandals with ankle straps. No flip flops.

Included

Professional friendly guides

All meals (alcohol not included )

Specialized gear

Round trip transportation from San José Central Valley Ñ

Not Included

Photo service

Guide gratuity
From Our Gallery
Be our gest and see it for your self
Adventure Calendar
Calendar
(River Scale)
| | Jan | Feb | Mar | Apr | May | Jun | Jul | Aug | Sep | Oct | Nov | Dec |
| --- | --- | --- | --- | --- | --- | --- | --- | --- | --- | --- | --- | --- |
| Naranjo River 1/2 day trip | | | | | | | | | | | | |
| Naranjo River 1/2 day trip CHORRO | | | | | | | | | | | | |
| Savegre River 1 day trip | | | | | | | | | | | | |
| Float Trip | | | | | | | | | | | | |
| Fly Fishing 1 day trip | | | | | | | | | | | | |
| 2 River 2 day Expedition | | | | | | | | | | | | |
| Pacuare River 2 day | | | | | | | | | | | | |
I
II
III
IV
V
What's Your Adventure Level?
Adventure
(Level)
For each of our trips, we've tried to provide an approximation of what adventure level (from easier to challenging) you should expect to encounter under typical circumstances. Many trips are suitable for reasonably-fit first-timers, but all our trips are made more enjoyable by a certain degree of personal fitness and an adventurous spirit.
Rating Levels for Whitewater Rapids
Standard
(River Scale)
Choosing the right level of whitewater is the first step in making your whitewater rafting experience a success.
Swift current with riffles and small waves. Few obstacles, all obvious and easily avoided. Ideal for: Children aged four and older, first-timers, all adults.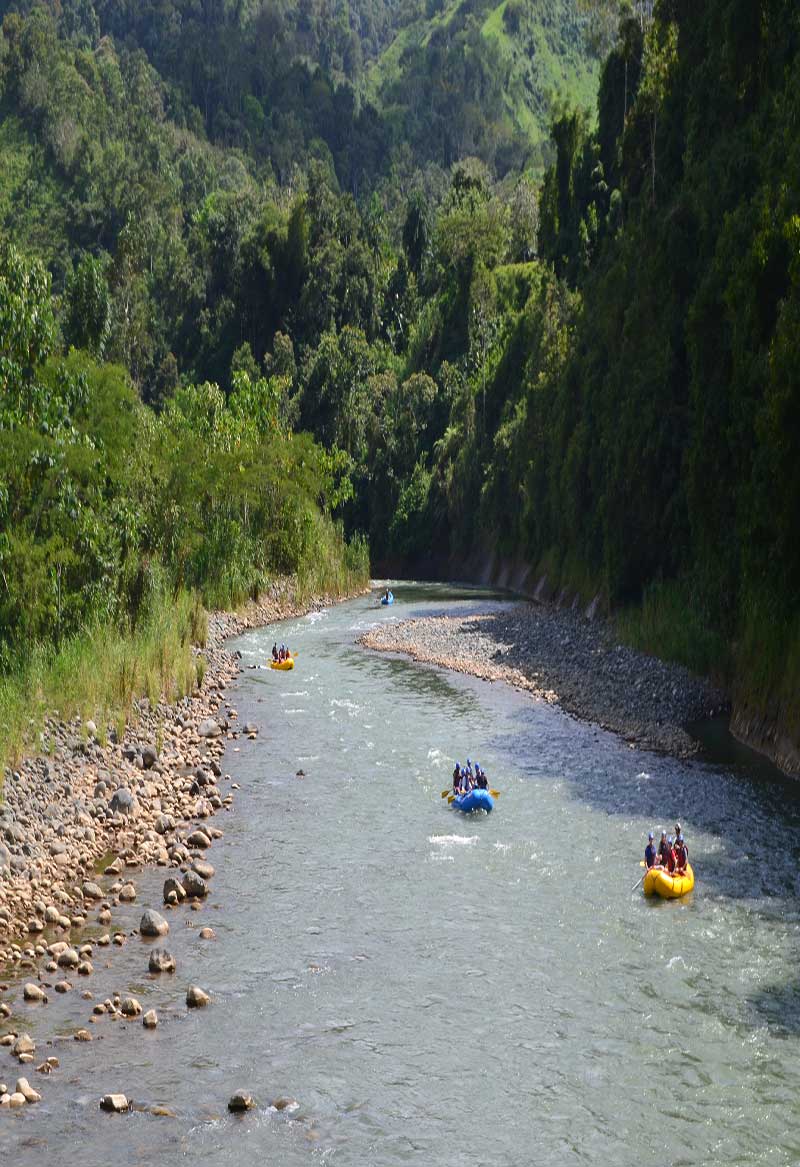 Easy rapids with wide-open channels and medium-sized waves. Some maneuvering may be necessary to avoid obstacles. Generally, children four years and older may experience Class II rapids. Ideal for: Children aged four and older, first-timers, all adults.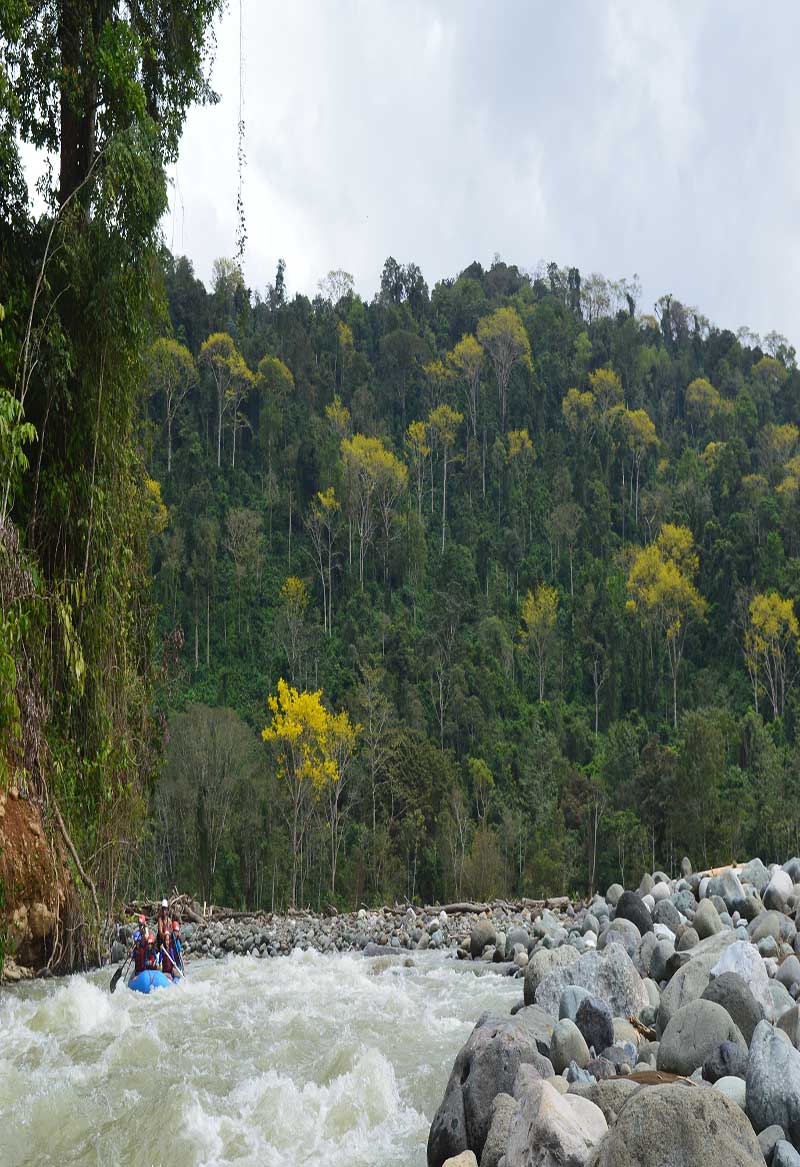 Moderate rapids with irregular, medium- to large-sized waves. Waves large enough to cause a boat to capsize may be present but normally can be avoided. Quick maneuvering may be required to avoid obstacles. Generally, children seven years and older may experience Class III rapids. Ideal for: Children aged seven and older, beginners to intermediates looking for manageable thrills.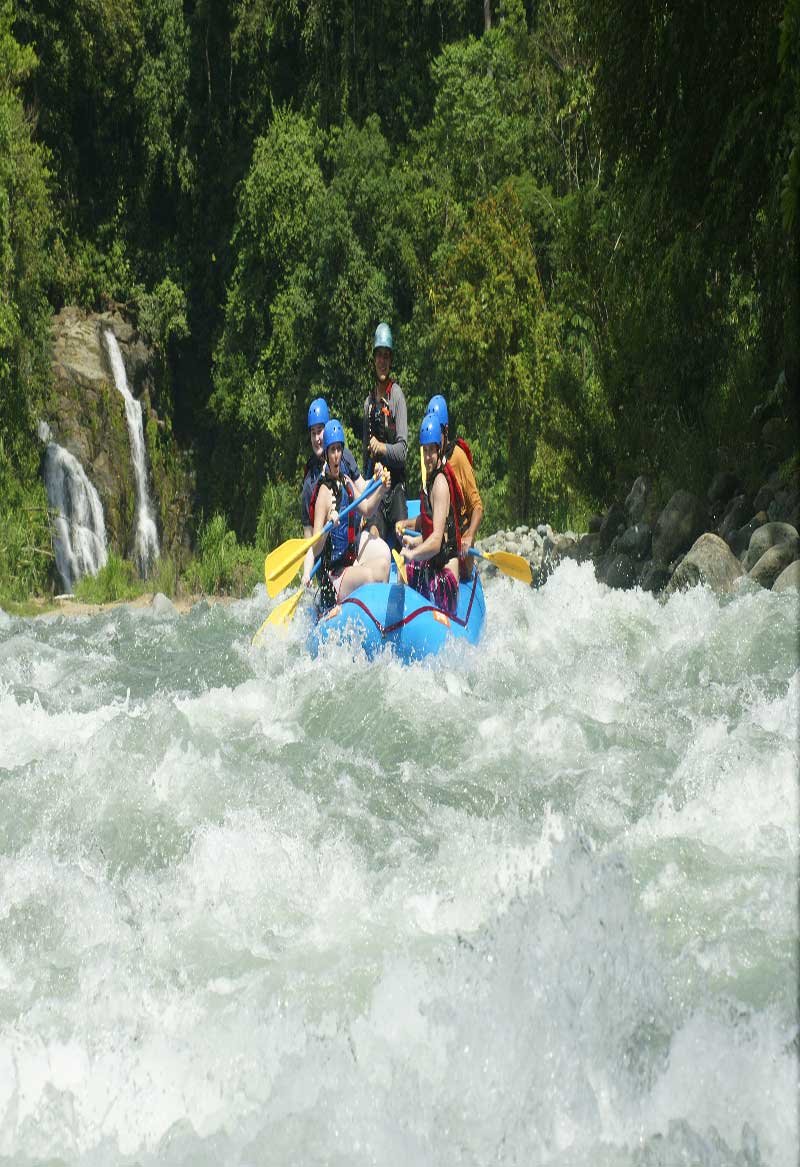 Powerful rapids featuring boulder gardens, large waves and/or small waterfalls. Quick and precise maneuvering is essential for successful runs. Prior Class III experience is recommended, although aggressive first-timers looking for a challenge are generally accepted. Minimum ages will generally vary from 12 to 16 years. Ideal for: Adventurous individuals, intermediates or aggressive beginners looking for a challenge.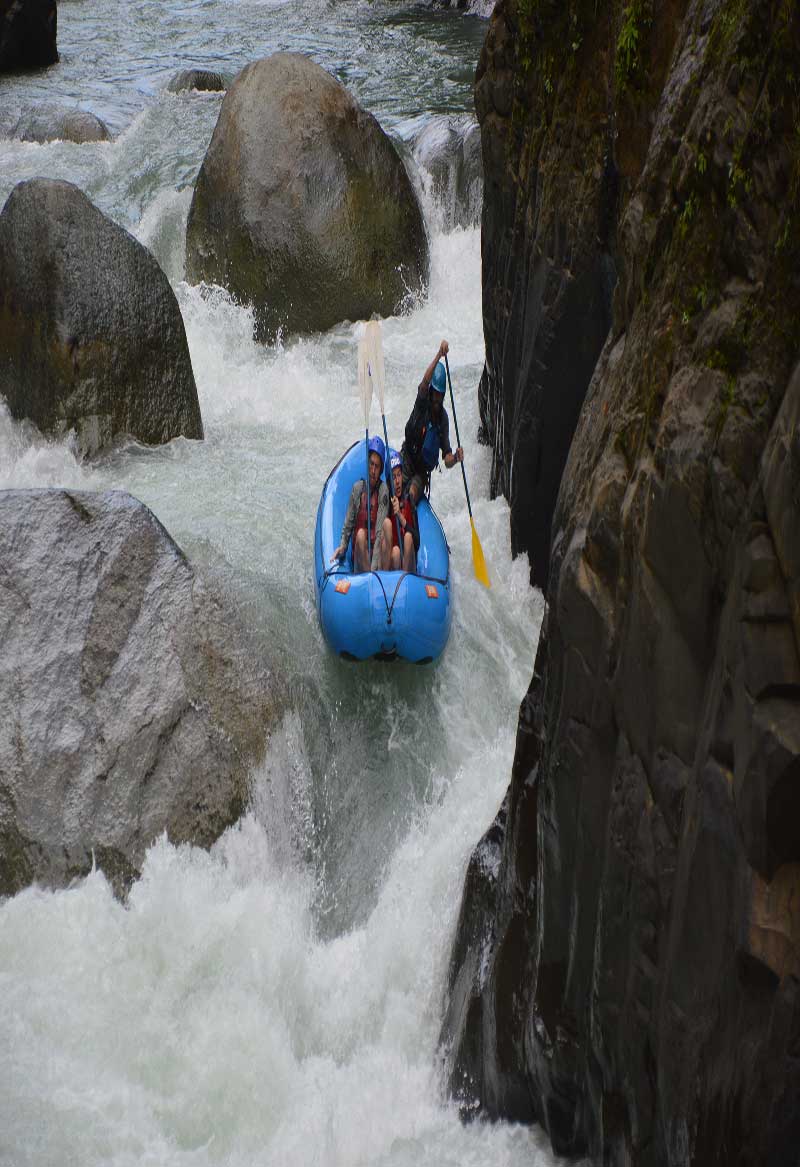 Intense and violent rapids with steep drops, waterfalls, massive waves and extremely constricted channels. Rapids may require "critical" maneuvering above dangerous hazards. Prior Class IV experience may be required. Participants should be in good health, capable swimmers and physically fit. A swim practice may also be administered by our guides at the river. Ideal for: Experienced paddlers and hard-core adventurers.